Building And Property Maintenance - Kent
Tuesday, 29 March 2011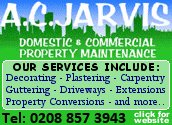 Contacts

Al Jarvis

02088573943
Item description
I am writing to introduce our company, Builders and property
maintenance. Our company works a long side many companies in london kent and the
south east of england. We have over 20 years experience and all our tradesmen
women are qualified in their own fields (e.g.
Plastering, Electrician, Plumbers, Corgi Reg Services, Garden Maintenance, and most
building maintenance. Should you require any work done in the future, Then we
would be happy to supply you with a free estimate. We are dependable, reliable
and offer the elderly and disabled a 10% discount on any work undertaken, We also
try to have a family member or carer with them to help with what work they are
requesting to have carried out. You can view our website on, www.acjarvis.co.uk Where there is a contact form
should you require, we cover.We cover Blackheath, Catford, Croydon, Bromley, Bexleyheath, Bexley, Dartford, Greenwich, Kidbrooke,
Lewisham, Mottingham, New Cross, And All Areas Within and outside The M25.